Dr. Michael W. Hankins is the Curator for US Air Force, Navy, and Marine Corps post-World War II Aviation at the Smithsonian National Air & Space Museum. He is also an Assistant Editor of From Balloons to Drones, a scholarly web journal for the study of air power, and host of the From Balloons to Drones Podcast. He is a former Assistant Professor of Strategy at the USAF Air Command and Staff College eSchool of Graduate PME, and a former instructor of military history at the USAF Academy.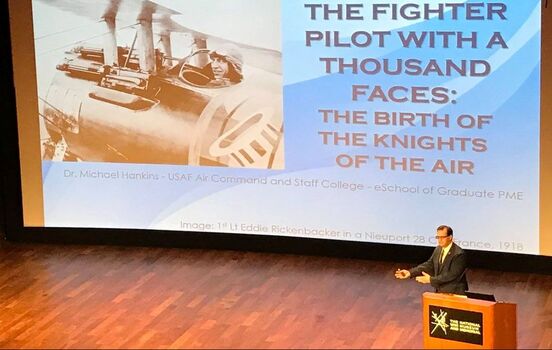 Mike completed his PhD in history at Kansas State University in 2018 and his masters in history from the University of North Texas in 2013.
Mike has published peer-reviewed work in the Air Power History journal, as well as contributed to several encyclopedias, conference proceedings, and academic websites. He has presented at many academic conferences, including the American Historical Association, Society for Military History, and Society for the History of Technology.
In addition to teaching military history, he has taught courses at Kansas State University in World History, American Air Power, and a course on Comic Books in American History, and has worked as a researcher in the curatorial department of the Marianna Kistler Beach Museum of Art.